This wild horse film is told through the lens of America's wild horses. It  examines the forces that work against wild horses on America's range lands.   By capturing footage of wild horses, born and living as highly adaptable wild inhabitants of the land, the viewer more fully understands the complexities of the wild horses history in America  and  what forces threaten their existence today.
This wild horse film is a call to action, not only for the wild horses, but calls upon all of us to be guardians and stewards of all of nature.  Mara LeGrand was interviewed internationally for radio, print and T.V. about this film and for her deep wisdom about the intertwined relationship humans have with all of the planet and it's inhabitants.  The film was broadcast on PBS channels nation wide.  Click here to watch the film trailer.  It is available to stream on Amazon or contact us for a DVD for public screening rights. Watch the 1 minute trailer.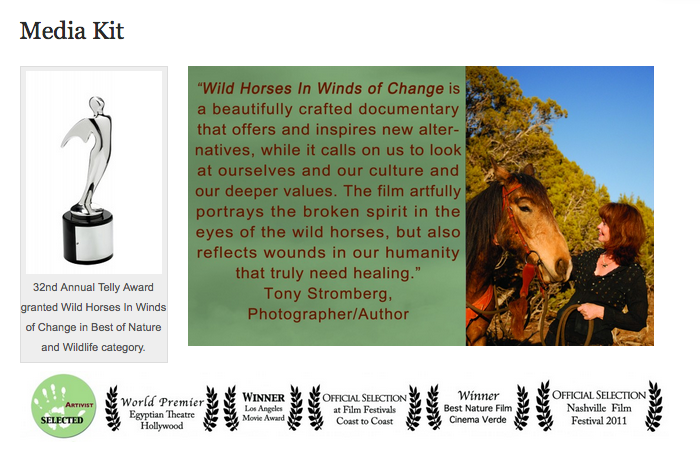 The topic of wild horses on public and or roaming freely on the range is hotly contested: Here's a few of the debates that when on after viewing Wild Horses In Winds of Change. Discussions and interviews published and "called out" in journals like The Denver Post, Huffington Post, N.Y. Times.
FOR IMMEDIATE RELEASE: Skydancer Productions, LLC
Does what you eat affect global warming?
Are small scale farmers the new super-heroes?
Can growing local organic food save the Earth?
HEART & SOIL, a 45 minute family documentary, offers hope for our planet. This uplifting movie clips along with the pace of barefoot children and frolicking livestock, taking us on a journey into the rich landscape and lives of small scale farming, the bustling energy of farmers' markets and farm to school programs. Filmed in the rugged Four Corners Area of southern Colorado and northern New Mexico, HEART & SOIL has been called "a love song for farmers," those stalwart keepers of the earth who speak with passion on diverse topics including animal husbandry, soil science and climate change. HEART & SOIL also touches on the darker side of agriculture: the corporate extractive system that produces—not only most of the food we eat—but global warming.
* The Food Climate Research Network estimates as much as 31% of greenhouse gas emissions come from Industrial Agriculture.
* The United Nations reports that raising animals in the industrialized food chain generates more greenhouse gases than all the cars and trucks in the world combined., and is one of the top two or three most serious global environmental problems
* According to the Union of concerned Scientists, "It is time to transform agriculture into a sustainable enterprise."
Filmmaker, Mara LeGrand, an award-winning photojournalist and author of eight screenplays, has an extensive background in nutrition and health education. Her connection to nature, gardening and the environment is palpable, as is her respect for the farmers she interviews in HEART & SOIL. This brings a rare, heartfelt quality to the film. "My favorite stories are driven by rich characters," says Mara. "Seeing these farmers through my camera lens, listening to their profound knowledge and stories from the field, I realized they were superstars in ways most movie stars will never be. These folks aren't acting. They need no reality show drama. They're the real thing—the salt of the earth."
Audiences across the globe are charmed by HEART & SOIL and leave the film with a renewed sense of gratitude for the small farmers who labor so hard to provide our communities with delicious, healthy food.
Deborah Madison, author of Local Flavors–Cooking and Eating from American's Farmer's Markets, Random House, and a leading member with Slow Foods International and Farmers' Market Associations, says:
"Heart & Soil shows the viewer a beautiful slice of that complex portrait of food and farming that is a part of all of our lives. Whether you have long been a supporter of local food and farming or are just considering your first visit to a farmer's market, this film will be seen in turns as charming, devastating, hopeful, historical and most
of all inspiring. Heart & Soil should be required viewing in every American classroom.
Chef Ann Cooper – The Renegade Lunch Lady, author of Lunch Lessons, says:
"I've been a chef and a cook all of my adult life – dedicated myself to regional, organic, seasonal sustainable and of course delicious food. Heart & Soil brings the connection of delicious food, healthy soil, healthy children and a healthy planet not only to our plates but to a feast for our eyes. "
This compelling documentary is a poetic portrait of people whose lives are integrated with the natural world. "I hope to fuel the collective conscious," says Mara LeGrand, "so the demand for organically grown food continues to flourish. Food grown with thriving soil, clean water and pure air impacts, not only our health, but the future of our children and our planet."

HEART & SOIL will be presented at the Jacob Burns Film Center in Pleasantville, New York on May 19th as part of the Celebrating Women Filmmakers series. Q & A will follow with filmmaker, Mara LeGrand, and New York's organic food maverick and author of This Organic Life, Joan Dye Gussow. For more information on the festival please visit http://www.339.org/films/series_womenfilmmakers2.html
For more information on the film, please visit http://www.heartandsoilfilm.com/
OFFICIAL SELECTION to date include the Nashville Film Festival, who selected it as the opening film on Earth Day presented by Al Gore. Indie Spirit in Boulder Colorado chose it for their Creative Spirit Award. It was nominated for audience choice awards and made the audience favorite top ten list at Taos Mountain Film, Santa Fe Film Festival, Vancouver BC Mtn. Film Festival and San Luis Osbispo Festival. It's next showing include Hearts & Minds Film Festival in DEL and more than a dozen future festivals across the country have chosen it as an official selection.